Our support program starts with finding clients' needs and interest.
When clients' needs are in confusion, we clarify them through various plays and activities. It helps them to expand their mind to feel "Communication is fun!", the first step for communication. We also coordinate activities taking account of the environment surrounding the clients and tools they can easily use.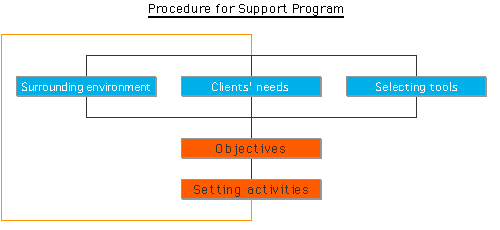 "What kinds of experiences does this child need now?" Many people share this question. So we look into every aspect of clients' life, talk with people around them and set two kinds of goals. One is immediate goals and the other is goals for the near future. Goals are not subjects that clients have to struggle or objectives they have to achieve. The principle of activities is just enjoyable for clients and a little bit challenging. The goals are we, supportersユ guide post as well as the course to follow in relationship with clients. We think, "Let's try this activity! It may be helpful to develop ability to do <goals> " For that reason, we re-examine the goals through activities when necessary.

Playing with electric toys; creative art work; cooking; playing musical instruments; going around by one-switch go-kart; social skills (shopping, getting on a bus or train, necessary skills for social life); relaxation (foot-bathing, playing with lights); travelling; doing jobs; school life; gardening; outdoor activities and etc. These experiences are very important to enrich our lives. But people with disability need supports to participate in activities. We coordinate how we support the clients as well as setting activities.
Examples of activity ideas, click here.

We use lots of tools called communication aids through our support.
But our purpose is not using tools called communication aids.
We support every client can find suitable communication method and communicate in the most effective way in every situation. We help our clients to obtain opportunities to participate in various activities and experience lots of things.
Tools can be useful only if users find its value. Some of the people we meet refuse to use tools, no matter how useful they are. The background of this is various, e.g. they are not motivated for communication; they are lack of active communication in their lives so far; they cling to what they have been doing. In these cases, not sticking to the idea of using tools, we arrange activities to motivate clients for communication, activities that clients can participate voluntarily, and situation clients make a decision by themselves.
Furthermore, we consider other communication measures without using tools, making the most of clientsユ ability at the same time.

We have new cases and renew existing contacts every September. First one month is testing period to see what we are doing. Contract is basically one year. For more information about schedule, fees and etc., please feel free to contact us.